Fiesta premium condoms are sexy and fun. Express who you are with 14 exciting variants of colours, textures, flavours and sizes- you can change it up every time!
Double protection – prevents pregnancy and sexually transmitted infections
Well lubricated
Comes in 14 exciting variants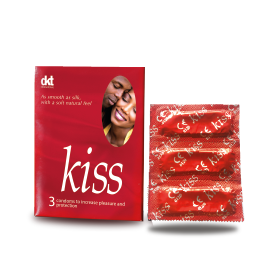 KISS quality condoms is for everyone who wants more than a kiss. It's highly lubricated for a smooth ride.
Highly lubricated
Affordable
Portable; fits perfectly into a wallet or pocket